Tips for running a business when your children are off school
Tips for running a business when your children are off school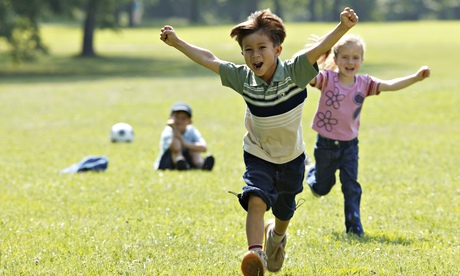 Former PricewaterhouseCoopers recruitment manager Nicola Bird is the creator of JigsawBox ("it enables business coaches to systematise their business via an online content delivery mechanism", she explains). She is also responsible for the Simplicity Project, which helps time-poor entrepreneurs to dramatically reduce their to-do lists.
Bird lives in Surrey with her husband and three children. "My kids are aged six, eight and ten and I've been working on JigsawBox for six years, so I know just how challenging it is to balance business and children during school holidays," she smiles. As she points out, not everyone can afford childcare and mothballing your business isn't an option for those who need to generate an income.
"There's no 'right' way, you must find what works best for you. I've tried most options. This summer my kids will spend two days a week at summer camp at our local leisure centre, which they love. That will enable me to work on my businesses and have a 'sanity break', too." Bird says it was more challenging when her children were younger, but setting up her main business so it could virtually run without her has been hugely beneficial.
Balancing act
"It's a balancing act most of the time – you have to accept that," she adds. "And don't 'beat yourself up' when things go wrong, it doesn't make you a bad parent or businessperson.
"Most of us try to juggle too much, but effective time-management and keeping things simple can help. Some days you'll feel up to a long list of tasks, but on others you might feel slightly overwhelmed. Try to look at things dispassionately and decide what really needs to be done."
Trying to perform both roles simultaneously isn't feasible, warns Bird. "I've tried working on a laptop while my kids were nearby doing what kids do and it just doesn't work, so dedicate your full attention to one thing or the other where possible. Help from friends and family can enable you to concentrate on your business, while paying others to work for you, if affordable, can free up time to spend with your children. Otherwise, accept that some compromise is necessary."
Mumpreneur mentor
Former Accenture, Ernst & Young and KPMG management consultant Nicola Semple now uses her skills to "support mums who want to build a profitable enterprise around their family". Also known as the Mumpreneur Mentor, Semple is founder of the Mum's Business Academy online training programme, having left the corporate world five years ago.
"My children are five and two, so I also know how hard it is to run a home-based business during holidays – but it isn't impossible," she stresses. "It requires planning, preparation and rigorous scheduling. I front-load as much work as possible during term time, so I've more spare time when the kids are off."
Trying to juggle too much can mean you, your business, family or all of the above suffer, warns Semple. "Lack of headspace can affect your work, while children can get frustrated if you're physically present, yet not really 'there'. If childcare isn't an option, expecting to get through the same amount of work is unrealistic."
Long before the holidays begin, Semple recommends planning your time. "Map out the weeks on paper and schedule in set times for business and kids. If childcare isn't an option, you might need to get up earlier or catch up on business after the kids have gone to bed. Prioritise your tasks and focus on things you must do."
Managing expectations
Semple advises being honest with your customers and managing their expectations (as well as your own). "If old enough, your children should be taught to understand when they should leave you to your work. And you must switch off from business when you're looking after them. Technology can be a great tool that can keep your business ticking over, but if possible, avoid answering business phone calls, checking emails or updating social media when you're meant to be spending quality time with your kids.
"I constantly remind my clients to 'remember your why'. Most of them started businesses to gain more freedom and the flexibility to spend time with their family. Keeping your business going through the summer is very important – of course it is. But that shouldn't be at the expense of spending quality time with your children, having fun and making memories."
Sole trader
Trying to look after your children while running your own business is likely to be significantly more difficult when you are a lone parent.According to Office for National Statistics figures, there are almost 1.9m lone parents with dependent children in the UK and 8% of these are lone-parent fathers.
Bob Grieg has two daughters, Priya (17) and Anya (14) and has been a full-time lone parent for nine years. He lives near Totnes and co-directs support organisations OnlyDads.org and OnlyMums.org, which are run as a social enterprise. "Running your own home-based business is challenging when you have dependent children – even more so when you're on your own.
"Much like running a business, looking after children is time-consuming and it requires a lot of effort. You may not be able to share childcare responsibilities nor have someone at home with whom you can talk about the failures and successes of your day, which can leave you feeling lonely," he admits.
Parental advice
Grieg advises taking up trusted friends and family on their offers of help. "And if your children are older, seek their cooperation. If you need to work, be honest about that, and ask them to occupy themselves for a while."
Effective time-management is a must, he says, while making full use of every minute. "I sometimes take my daughters away for a few days, but cram in so much that it feels as though we've been away for much longer. And it's not selfish to get a little 'me time' either. We all need it and it can make you a better parent and business owner.
"You have to accept that you won't get it right all of the time, but being honest helps. Let your customers know, the better you get to know them, that you're a single parent. By and large, people will take their hat off to you and understand if from time to time you turn up late to an important meeting with baked bean stains on your shirt, as once happened to me," he smiles.
Read more ...
Child's play: The growth of the playdate economy
Can home business owners achieve a work-life balance?
Sponsored content
This content has been sponsored by Direct Line for Business, whose brand it displays. All content is editorially independent.
Sign up to become a member of the Guardian Small Business Network here for more advice, insight and best practice direct to your inbox.